WELCOME TO 'MITHIAL' WEBSITE
"A SMALL EFFORT TO CONNECT TO MY ROOTS"
It is human nature to love his birth-place and I am no more exception. I too love my village and you may find it evident in the text posted here.
From the Editor of this website
Today, while sitting and thinking about Mithial, I felt to contribute something to my birth place. It is my great pleasure in presenting this web portal of my village Mithial to all my fellow Mithialis.
I pay my infinite praise and thanks to Allah (S.W.T.) for blessing me with the great opportunity to present this website to my fellow MITHIALIS. Although there are some posted articles available on MITHIAL, but most of them lack detailed information. Some articles are very short and some have many mistakes in them and there are those that have been written in complicated or confusing English. Therefore, after reading and analysing many articles on the internet, I reached the conclusion that a website should be introduced on MITHIAL in a clear and concise manner, covering detailed aspects so that all can easily read and understand what is written.
I wrote the details of this website long time ago but due to lack of time information is released now. Hope all the viewers will like the contents. If you have any further information which you think can be added to this website, please feel free to provide the details.
Wishing peace and happiness to all the people of Mithial.
Malik Nasim Iqbal Khan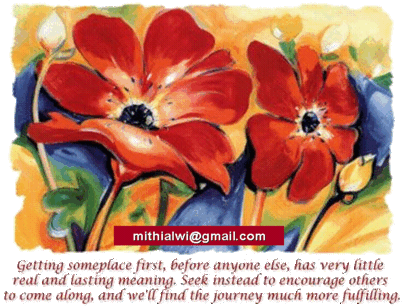 "A TRIBUTE TO OUR ANCESTORS"
I dedicate this website to all our proud forefathers who devoted their lives in Mithial..................................... (May their souls rest in peace).
MALIK FAZAL KHAN (Late) - My beloved father who always guided me to excel in all fields of life & make effort to brighten the name of Mithial.
SHER KHAN (Late)- My grand-father (Dadda-Jee) who left memmories of affection in my heart..
ARIF KHAN (Late)- My Uncle (Mammu-Jee) who was my mentor in childhood.
KARAM KHAN (Late) - My grand-father (Nanna-Jee) who is an inspiration in my life.
My Contact Information
Links to Other Sites